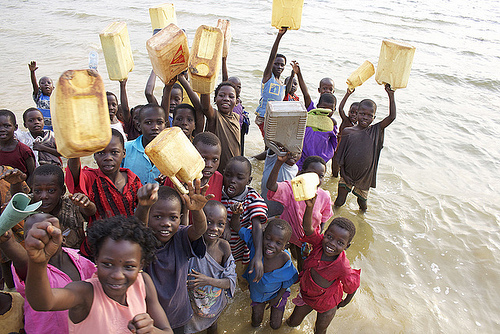 photos provided by WMI
by Pringle Franklin
Imagine you're a child living in rural Honduras, Africa, or India, just like the Ugandan children in the photo. You'd spend hours trudging along a footpath, toting a heavy and slippery jug full of dirty drinking water.
From about age 4, you'd trek as much as five miles roundtrip to the local stream or pond. If you didn't own any shoes, you'd travel on bare feet and blisters. You'd roam uphill and down, through dense jungles and across dusty fields, past wild animals and dangerous snakes, to fill your jug. Not even the richest man in your village would have running water. Everyone would quench his thirst with native water awash with harmful bacteria; diseases such as cholera, typhoid, and dysentery would often sweep through your village, killing hundreds of people.
Around the world, 25,000 people  — mostly young children — die every day from drinking unsafe water.
"We flush clean water down our toilets," Molly Greene, cofounder of Water Missions International in Charleston, S.C., said. "Our toilet water, they would love to have to drink."
Happily, Greene and her engineer husband, George, are bringing clean water to remote, impoverished villages around the globe. In the last decade, Water Missions has brought safe water and improved health to more than 2 million people on the planet. Their Living Water Treatment Systems operate in Haiti, Honduras, Indonesia, Peru, Africa, India, Sri Lanka, among others. In all, WMI has served people in 49 countries spread across five continents. In remote, impoverished communities of mud houses and dirt floors, the bacteria-free water is an astonishing gift.
"Words can't describe the change it makes in a village," George Greene said.
AVOIDING WILD ANIMALS 
In Africa, lions, elephants, and other wild animals gather morning and night at the watering holes. For that reason, the locals establish their villages a safe distance from the watering hole. That means WMI crews must lay miles of pipe to bring the river water to the community.
Most villagers have never seen anything but coffee-brown or orange-clay water. When the pure, clear water first gushes out, "there's astonishment," George Greene said. "Then there's excitement, then it turns to jubilation. Then, they're dancing."
Within 30 days of drinking clean water, the local children are healthier, and everyone is stronger and more active. "It takes a very short time to have an impact," George Greene said.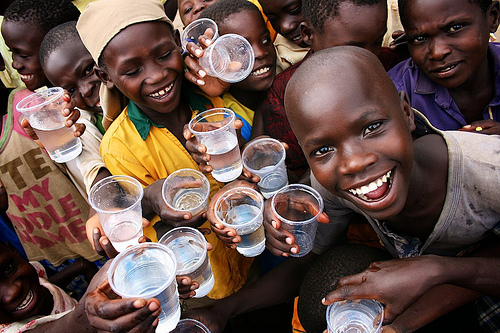 So how did the Greenes even get into this?
In November of 1998, when Hurricane Mitch ravaged Honduras, their environmental engineering firm created portable water treatment systems. In Honduras, their systems saved countless lives. The Greenes continued making water systems after Mitch, but they soon discovered their firm could not make a profit in the clean water field.
In September 2000, George and Molly Greene set aside a day to talk and pray about their future with friends at St. Philips Church in Charleston. They decided God was calling them to launch Water Missions as a way to help others and to share their Christian faith. They retired from the engineering firm and created Water Missions as a non-profit ministry.
Now, their dream is to spread clean water all over the earth. "The global water crisis is huge," Molly Greene said. WMI also addresses sanitation issues in water supplies.
With more than 2 billion people lacking clean water, and another 2.5 billion living with poor sanitation, the task of addressing the global water crisis is daunting. About 97 percent of the earth's water is ultra-salty sea water. Much of the earth's fresh water is frozen in polar ice caps or hidden deep underground. Only 1 percent of the earth's water is available for drinking.
As the world's population grows, people are realizing the importance of fresh, safe water. Some parts of the earth are too dry to support their populations. Even in the United States, when droughts, hurricanes, or other emergencies hit, people can wind up without enough water.
HOW MUCH WATER DO YOU USE EACH DAY?
Most of the time, we don't even think about how much water is pouring out of our faucets and showers. The World Health Organization says everyone needs 2 gallons per day of personal water for drinking, cooking, washing hands.
But in the United States, "we can use 200 gallons a day — that's one person in one day," Molly Greene said. "If an entire family in Africa gets 5 gallons of water a day, they feel like they have an adequate supply."
At Water Missions headquarters, volunteers spend 40 hours building the Living Water systems on an assembly line in a warehouse. The units, small enough to fit in the bed of a pick-up truck, can supply clean water for 3,000 to 5,000 people a day. The dual-tank systems cost between $25,000 to $30,000, and they are designed to last about 10 years. The system's filters capture dirt and bacteria.
Each village commits to build a shelter to protect the system from the weather and from vandalism. They also agree to take over the system's operating cost after the first year. Many villages have no electricity, so Water Missions uses diesel generators, gravity, or solar panels for power. At most, the cost is about $3 per thousand gallons of water.
"That's about $3 per year for each person's water," George Greene said. "Even the poorest people can usually come up with that."
WMI staffers also educate people about basic health and hygiene lessons:
* wash hands before meals
* keep drinking water separate from bath water and latrine water
* keep livestock and wild animals out of the water supply.
The clean water and better sanitation transform life for everyone. "It makes sense that when people are healthier, you have an opportunity to break the poverty cycle," George Greene said. "The kids can go to school, and the parents can go to work."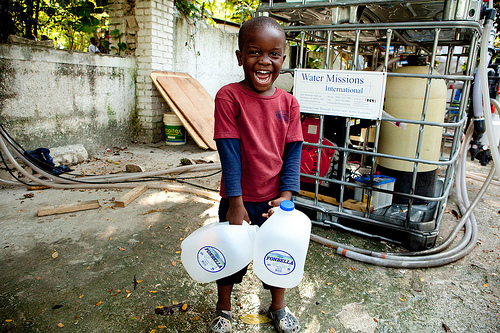 Global water facts:
1.2 billion people — one out of every five people in the world — live without clean drinking water
Daily, 25,000 people die from lack of safe, clean water
9 million people a year die from lack of clean water
2.5 billion lack adequate sanitation facilities
Living Water treatment system facts:
Gets rid of dirt and bacteria
Built with 40 hours of volunteer labor on the assembly line in Charleston, S.C.
Cleaning system can be up and running within 5 hours on the site
Serves a community of 3,000 – 5,000
Pumps 10 gallons per minute of safe water, up to 10,000 gallons per day
Costs about $25,000 for entire project — including system, shipping, education and support for that community….costs another with $10,000 solar panels
(Source: Water Missions International)