Sadly, Preston Hipp entered into eternity on Sept. 8, 2016, the day following this story.
Waiting on the Miracle
Editor's Note: Three times during his 8-year cancer trek, Preston Hipp has collaborated with Jesus Street to share his story of faith under extreme pressure. There is more to tell, but Preston is running out of steam. Here I offer my own observations of Preston, his wife Laura, and their ongoing trial by fire:
by Pringle Franklin
Tall, blonde, fresh-faced, Preston Hipp looked every inch the heavenly being on Christmas Eve when he donned a long white robe to play the Archangel Gabriel. Preston was only a temporary angel, transformed for the services at St. Philip's Church in downtown Charleston. But afterward many remarked how much he had fit the part.
The popular appeal of this man went much deeper than his angelic good looks. Preston was a role model for many on how to walk closely with Jesus Christ and remain a guy's guy. For years, he led a committed church group in studying the Bible together on Friday mornings, offering a haven where men could be real with one another, share their struggles without judgment, and receive grounding and encouragement in God's word.
Despite living by the Good Book, Preston was untamed at heart. He nurtured an unabashed affection for devilish stunts of the sort that Huck Finn might have cooked up.
For instance, Preston and his cohorts would slip around the Charleston peninsula like middle school kids and scavenge the dried Christmas trees tossed to the curb during the exodus of the holiday season. When his truck bed was spilling over, Preston and pals would haul away the needled carcasses to a clearing out on Wadmalaw Island, eventually stacking the fir and spruce trees into a towering pyramid.
About a month later, during the dull, cold days of winter, they would ignite the pile before a crowd of awe-struck friends. At dusk as orange flames flickered against the deep indigo sky and dry branches cracked and popped, Preston could be seen swinging from a rope near the top of the blazing mountain, cheeks smudged with soot and face illuminated by a gleeful grin.
For kicks, Preston might wing a few aerosol spray cans over the inferno to enjoy the mini explosions.
Like many Charleston boys, Preston grew up boating and felt at home on the water; not surprisingly, he was something of a thrill seeker. While crossing Charleston harbor in his small pleasure cruiser, Preston was known to open up the throttle in choppy waters, egged on by the bumps, roaring wind, and cold splash of waves.
On dry land, Preston was a man with a wench on his GMC pick-up truck and fresh mud on his bumpers, who sulked when decorum and his wife Laura demanded that he wear ties and sports jackets in lieu of his plaid shirts and comfortable khakis. This was a man who went everywhere, even to work, with one of a series of faithful liver-and-white spotted English Springer Spaniel trotting by his side.
After hardship hit, that turned out to be significant. In February 2014, after logging more than five years in the fight against his prostate cancer, Preston would write here on Jesus Street:
Loneliness stalks me. While I am extremely blessed with a loving wife, extended family, life-long friends, and a wonderful church community, there are some roads you are forced to walk alone. Sometimes a crowded room is the loneliest place in the world.
My best therapist is my Springer Spaniel, Chester. He is my constant companion and never says a word. His ministry is one of presence and not advice. Advice usually sounds hollow in a solitary valley anyway.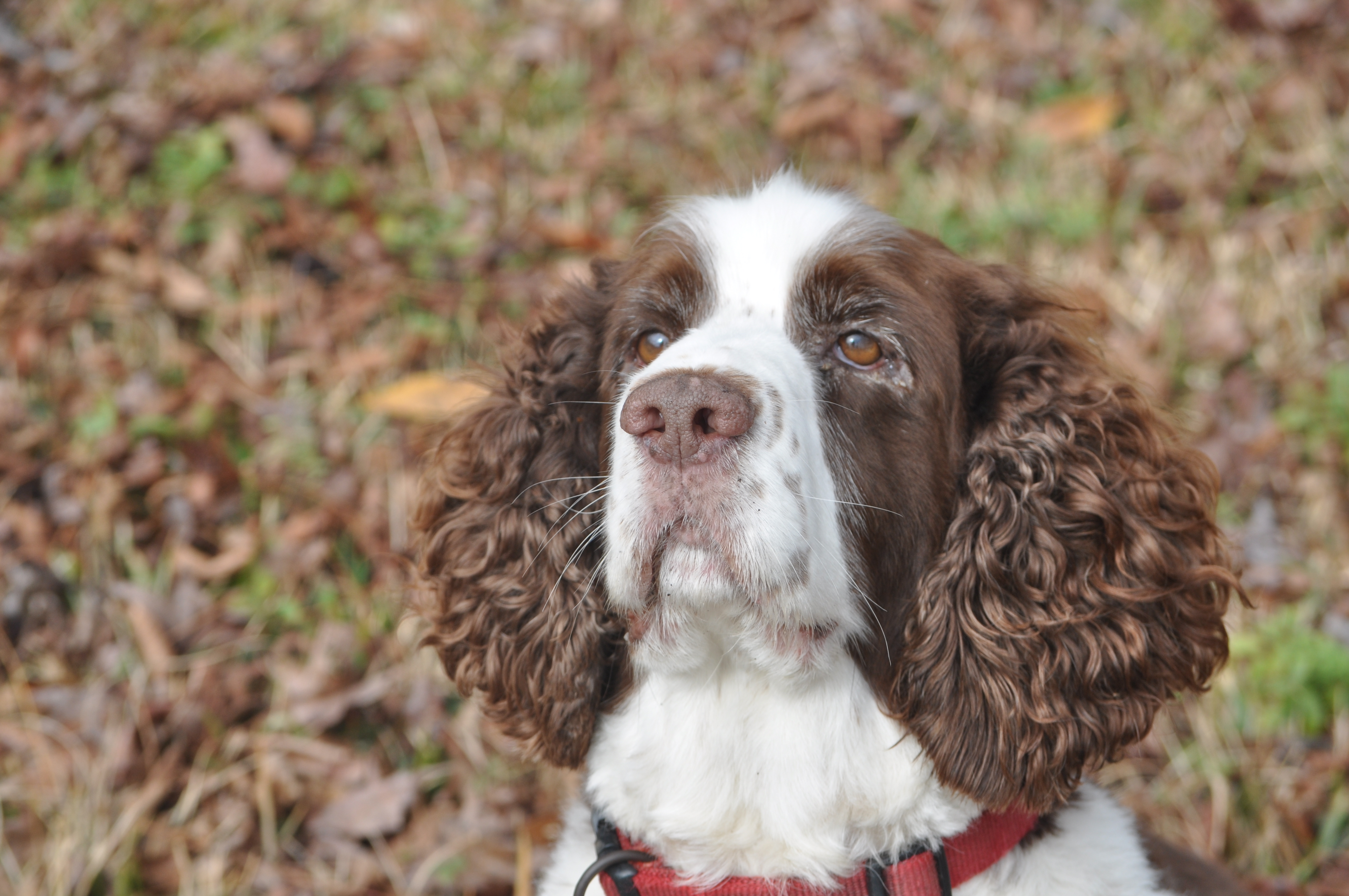 SHOVELING OYSTERS
This admission was a bit shocking, coming from someone who was often surrounded by friends and admirers. Being in the solitary valley was not his normal habitat; Preston and Laura often entertained at their Tradd Street home. While Laura was known as the Charleston doyenne of polished-silver hospitality, Preston reveled in their backyard oyster roasts.
He was never so happy as when shoveling piles of oysters onto a fire pit and steaming them under the cover of burlap bags on a chilly winter afternoon. Oyster roasts are a tradition in the Lowcountry of South Carolina, and Preston had honed his skills to perfection by years of experience; he knew just when to snatch the gnarled gray shells from the heat and shovel them onto the plywood table while they were still juicy.
Plenty of oyster knives, gloves, and paper towels were on hand for guests in the back garden; Laura and Preston created an easy-going atmosphere with a big cooler of beer and a friendly gathering that always included both unleashed dogs and free floating children. Several generations of families, including grandparents, would mix together happily under the colorful lobster buoys and strings of lights that hung from the twisted branches of a Live Oak tree.
LIKE DIAMONDS AND DENIM
In many ways, Laura (elegant and intellectual) and Preston (outdoorsy and playful) were an unexpected but delightful combination, like diamonds on denim or sea salt on chocolate. Laura never tired of recollecting to female friends that a whole pack of girls had been pining over handsome young Preston during his bachelor days. Yet God had heard her repeated prayers for a devout Christian husband and rewarded her chastity and faithfulness.
"I am just the lucky girl who gets to live with him," she has said many times with a twinkle in her eyes.
Affectionate by nature, Preston often had an arm casually slung around Laura or one of their three wholesome daughters, Olivia, Delia, and Victoria; he was generous with hugs to the wives of his friends, and he was a tireless and free spirited shagger who could confidently throw out an open hand and reel in a willing partner at dance parties.
Yet Preston could be touched by moods, much like a cowboy who needed time alone on the range. When the pitch and tenor of his female-dominated household became too much, Preston would simply disappear, curly-eared dog in tow, and stay gone for hours.
At such moments, Laura would pace the kitchen floor while wearing one of her iconic flowery aprons, wondering what she might have done to upset him. But the storm clouds always blew over. There was not much that a good long walk in the woods and a good long talk with the Lord could not straighten out for Preston.
NO ONE GOT BEAR SLAPPED
The great outdoors spoke to his soul. Preston loved hiking and tent camping in the Great Smoky Mountains with his family and a menagerie of friends; he would encourage all the kids — even the preschoolers —  to climb into the bed of his moss green pick-up. About when the last tyke was toppling over the gate into the truck bed, Preston would push down on the gas and the vehicle would take off like a fox chasing a hen, creating a teeth-rattling ride across dirt roads and dandelion meadows. A few of the mommies and daddies would endure bouncing around in the back to keep little bodies from flying out.
One such time Preston screeched his truck to a halt under the puny branches of an immature crab apple tree. This inadvertently placed the folks in the open bed within spitting distance of a yearling black bear cub who was climbing the tree for fruit. Perhaps the mama bear was not far behind. Surely she could scramble into truck bed and make short work out of defending her young.
"Floor it, Preston. Floor it!" came the alarmed calls from one of the concerned men riding in the rear. But Preston kept the truck idling for several long minutes, enjoying the wildlife show. He was perfectly content inside the protection of the cab and in his certainty that nothing would go wrong.
He was right. No one got bear slapped. Despite taking some risks, Preston was a lucky gambler at life. He had built a profitable career as a real estate investor, enjoyed close relationships with Laura and their girls, was surrounded by a lifetime of devoted family and friends. With his unassuming faith and natural magnetism, Preston looked the picture of health, well-being, and fitness.
When the cancer hit in 2008, it caught everyone by surprise, most especially him.
NO CURE IN SIGHT
This wasn't your garden-variety prostate cancer; it was aggressive and inoperable. Doctors offered no cure, but they proposed ways to buy him more time. Over a period of years, Preston and Laura would endure the ravages of his treatments: radiation, hormone therapy, chemotherapy. At five years into his exhaustive battle, Preston had a strange experience that he interpreted as a sign from God.
He ran over a large piece of scrap metal one morning on the Cooper River bridge; the towering bridge is the worst place in the world for an automobile to break down, as it is impossible to pull over and stalled cars always create monstrous traffic jams. Preston had no choice as the construction junk was caught under his chassis. Preston and a policemen who happened to be in traffic behind him both stopped and were engaged in a protracted tug-of-war with the twisted chunk before it finally released.
In this Preston felt he had received a divine message: the scrap metal was symbolic of his cancer. The fight would be hard and perilous, but the Lord would see him through safely to the other side. This promise gave both Preston and Laura immeasurable hope.
Not long afterward in February 2014, Preston wrote on Jesus Street:
Despite my devotion to Christ, I have been wrestling with tough questions. Why me? Had I offended God in some unknown way? Was there some hidden lesson to learn before God would remove the curse?
Trials and hardships are exceptionally good at getting you closer to God. You think you are close to God in times of plenty, but there is always an element of independence and self-satisfaction. This affliction of pride is so subtle you usually miss it, but it can really obstruct your relationship with God. Ironically, it takes a severe trial to grasp in your gut what the Bible means by finding joy in hardship.
In June 2014, some of us at St. Philips Church organized a prayer vigil for healing. In a moment of private conversation before we began, Preston asked me to pray specifically for three things: 1) that he would get to walk his daughters down the aisle 2) that he could celebrate his golden wedding anniversary with Laura 3) that he would live to bounce his grandbabies on his knees.
His humble and heart-felt desires brought tears to my eyes. I spent time on my knees, talking to God about the need for Preston to stay with his family. During the time spent in prayer as part of a community of unified believers, I felt the presence of those who have gone before us, those from past generations. I had the sense that Preston's late mother might be watching and joining in on his behalf.
To me, the highlight of the vigil came when Laura stood up in the chapel and pleaded aloud to God for the life of the man she adored, arguing her point by citing scriptures and singing lines from treasured hymns in her sweet soprano voice. Laura's mother was British, and while Laura does not speak with a British accent, there is something in her precise enunciation and dramatic tone that conveys authority.
As Laura stood and talked to God, her determination to save her husband was palpable — and persuasive. I was buoyed by her faith. Surely Preston had more work to do for the Kingdom of God on Earth.
SLOW IN COMING
In God's mercy, death was held at bay. Yet the promised healing tarried, slow in coming. Instead the cancer, temporarily lulled by the various medical treatments, woke up and began to lay claim to more and more of his body.
His digestive system began to fail. Preston underwent emergency colostomy surgery in May 2015. Later he would write of the experience on Jesus Street:
The hardest part of any day in a hospital is the middle of the night.
The hours tend to blur together. Sleep is elusive. You are in a strange bed, in a strange room filled with strange, noisy equipment. Even though Laura was faithfully by my side trying to get some sleep on a foldout chair, I felt very alone with my thoughts….
My cancer tormented me. I felt trapped…in a hellish prison. I curled up into a fetal position and felt hopeless.
Then I saw him.
I opened my eyes and looked right into the face of Jesus. He was not looking down from Heaven or floating in the room. He was right there, lying in the narrow bed with me. There was no flaw in His features, no crown of thorns on His head. He was regally perfect. He looked directly into my eyes and beamed. His Presence radiated love that vaporized my fears and loneliness. He assured me of his plans for me. He was going to make sure I got out that hospital to fulfill them.
Preston survived, in large part because Laura was striving mightily to make their domestic life as normal as possible.
For her, that meant gardening, cooking from scratch, and inviting whomever turned up to share their lunch or dinner. A local historian and tour guide, Laura draws energy from people, so she continued her habit of offering hospitality to family and friends while maintaining rapt attention to the daily care of Preston.
His appetite was lagging and his once muscular frame had shriveled alarmingly. Laura monitored every ounce of food that he was able to get down and poured highly-focused energy into creating healthful delights. Many friends were assisting in the fight to feed Preston, bringing by locally caught shrimp, buttery pound cake, fresh churned ice cream, and other delicacies that might tempt him to eat. A friend who owns a dairy even brought by fresh goats' milk because Laura was interested in its healing properties.
Sometimes she sent me text messages to report tiny victories: He drank the goats milk muscadine smoothie that I made for him this morning. In another text, she related her satisfaction at having set up a dinner table in the front yard so their extended family could share supper within view of Charleston Harbor and its reviving breezes.
THE MIRACLE WAS LAURA
To me, the miracle was Laura. She lived in the here and now, thankful for every day that her husband survived, squeezing every drop of happiness out of her time with her beloved. He lives! became a common line of rejoicing from her lips and in her texts. Often she invoked South Carolina's state motto like a mantra: dum spiro spero, while I breathe, I hope.
Despite her efforts and plenty of prayers from their church family, the road kept getting rockier. Eventually the cancer had blocked both his colon and his urethra. Something as natural as going to the bathroom had become a humiliating ordeal that involved plastic tubes and collection bags. As if that were not enough, Preston learned in October 2015 that the cancer was active enough to put him back on chemotherapy.
Not long after this, in November 2015, Preston wrote on Jesus Street:
"Even though I walk through the valley of the shadow of death, I will fear no evil, for You are with me."  Psalm 23:4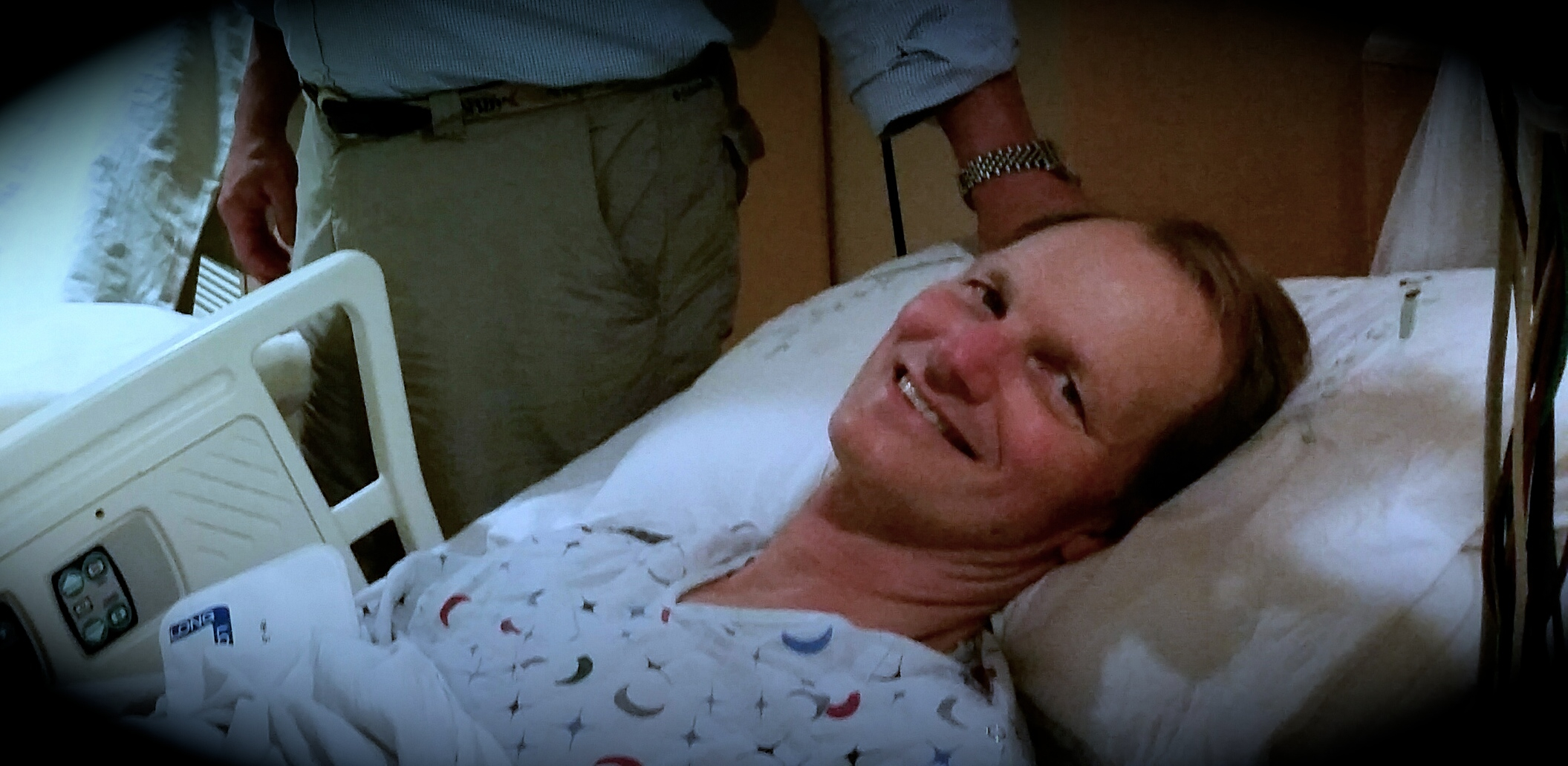 Nothing is proven true until it is tested.
Talking about life after death from a distance is a totally different experience than knowing death might be around the next bend. Believing in life after death crushes all of death's power over you.
I still have plenty of angst about my remaining days on earth and the process of dying, but there is no permanence to these feelings of distress….
I do not have a bucket list other than spending time with my family and friends. Part of me can't wait to cast this diseased body aside and go to heaven. No more catheters, colostomy, cancer, chemo, needles, hospitals. In the meantime, my suffering has given me fresh revelation of Jesus' love.
Preston understood that many people were learning about perseverance in faith by watching him. He began writing daily thoughts in response to Sarah Young's Jesus Calling, his favorite devotional. Preston distributed his encouraging messages via email among a wide circle. On Nov. 23, 2015, he wrote:
Sitting quietly with God is a diminished practice in our digital age.
We do not realize how distracted we are by TV, texts, emails, Face book, etc, etc.
We, as individuals and society, suffer for our lack of meditation with God.
"Not hearing God" is a common source of frustration for many Christians.
Having a daily "Quiet Time" is the foundation of our relationship with God.
GOD KNOWS EACH CELL BY NAME
By then Preston was noticeably malnourished; he was walking slowly and deliberately, and he was spending increased stretches of time at home. Preston conceded that God might chose to heal him by taking him to Heaven. But for the time being, he preferred to be restored in the physical world in order to stay with Laura and Olivia, Delia, and Victoria.
Preston was clinging to his way of life, to the people and things that he held dear. His circumstances had forced him to retire from boating or climbing atop piles of burning trees, but occasionally he managed to play bocce on Sullivan's Island with his buddies. He was still driving, working on his remaining real estate projects, and leading the weekly Bible studies. In tandem with their eldest daughter Olivia, Preston and Laura launched a Young Professional's study group in their home on Sunday evenings, and Preston would rest up in advance to increase his chance of being able to lead the Bible teaching.
He was a living example of resilient trust. According to Laura's account, "As Preston told our Sunday night (Yo. Pro. group), 'Never underestimate the power of God to show up at the eleventh hour. It's just like God to show up at the last minute. Never, ever give up hope!"
A few days before Christmas 2015, Preston wrote me in an email:
There are about 37 trillion cells in the human body. That's a lot of cells.
God knows each cell individually by name. Same with stars, people, etc.
He has total control over each cell. He knows which ones are naughty and nice.
The same power Jesus used to give man life (Genesis 2:7) and raise the dead (John 11) is still available today.
God's love (1st John 4:8) is a consuming fire (Hebrews 12:29) that sooner or later will destroy every cancer cell in my body and restore me to perfect health.
Yet Preston was so gaunt, he looked like he had crawled out of a concentration camp. Well-meaning friends expressed their fears and sympathies to Laura, but she would not tolerate  words of death. Throughout her life, once she had set her mind to a task, Laura had been a pillar of resolution. Fortitude was one of her great personality strengths.
Thus endowed, Laura refused to give in to despair. She doggedly maintained her position that God would spare Preston with a miraculous, late-hour healing. In the spring of 2016, she texted:
We read Psalm 145 this morning @ breakfast with tea & zucchini bread.
"The Lord has compassion on all he has made.
The Lord is trustworthy in all his promises, faithful in all he does.
He upholds all who fall & lifts up all who are bowed down….
The Lord watches over all who love him.
My mouth shall speak in praise of the Lord.
Let every creature praise is holy Name."
HOPE FOR BEST, PREPARE FOR WORST
By now I was uneasy. Clearly Preston had only months, or even weeks, to live. Shouldn't Laura be preparing herself and her household?  Wouldn't the pain of losing her beloved be intensified by this refusal to accept that they were down by 37 points with almost no time left on the game clock?
Out of loyalty, I continued to pray for healing; yet I began to add prayers that Preston would would have time to tie up loose ends, that his soul would be at peace, that he and Laura would remain surrounded by loving and supportive friends.
Thank you for staying in the fight in the heavenly realm for my man, Laura texted.
Somewhere along the way, my prayers for healing became rote, and my prayers for comfort, peace, and support grew longer. Meanwhile, as late spring melted into summer, Laura continued to speak healing over Preston to all who would listen.
But she could not ignore the terminally-ill look which her husband bore. At times it felt nearly impossible to keep visualizing that the miracle would come.
My anxiety confronts me in the night hours, Laura conceded in a text.
Yet through prayer, music, and scripture, Laura would recenter herself and find the strength for the next day. There is a fine balance between expecting healing and neglecting to prepare for the inevitable. Laura did not wish to act like she lacked faith in God's ability to heal. However, Preston realized that he had to put his affairs in order. He developed a strategy for them to live by: hope for the best but prepare for the worst.
The practicality of this comforted me. I prayed along those lines, hoping daily that no bad news would come.
By midsummer 2016, Preston was spending most of his time sitting in his den, his faithful Chester stretched out nearby. A stream of steady visitors paraded in and out of their home, bringing food, flowers, mementos, or the simple desire to visit. Everyone in town wanted to see Preston before it was too late.
Yet Laura refused to allow her home to be shrouded with the depressing air of mourning.
"Come to say hello, not goodbye," she wrote in her lovely old-fashioned cursive and posted on the front door. "All who believe in miracles are welcome."
That was a difficult command. Hospice nurses had begun to help with pain management, and Preston was soon moved to a hospital bed in their den where he could recline and receive company. His boyish face was emaciated. His skin looked impossibly frail, like a butterfly's wing.
He wanted to talk, but the pain medication made him drowsy, and at times he struggled to stay awake during conversations. But when he rallied, he was the same old guy inside the shriveled shell. His spirit remained strong and his heart remained a cistern of philos love.
Some of his visitors sat by his bedside, trying to work out their own theology, wondering how a loving God could afflict such suffering on such a good man. When he had the strength, Preston was happy to share his thoughts, ever eager to be used by his Heavenly Father to draw others closer to the light. He seemed to be treading closer to the light every day.
"God is purifying you so much," I wrote to him in an email, "that when you get to Heaven, you will be in the VIP section down front next to Jesus, and when I get up there, I will be stuck way in the back of the crowd."
"Good thing I am tall so that I will be able to see you," he had replied.
He still had his sense of humor. It felt good to laugh.
Meanwhile Laura pleaded with me to continue to pray for the miracle. To be honest, I struggled with this, as the Lord did not seem to be moving in that direction. My prayers wobbled on shaky legs. When my father was dying of brain cancer in 2000, there was a point when I stopped praying for healing and started praying for his peace and protection as he prepared to cross over to the other side.
Not my will but they will be done makes a sorrowful but powerful prayer of surrender.
THY SON LIVETH
Then my outlook began to change because of a coincidence of scriptures. Often the Holy Spirit works that way, placing the same scripture in front of us in random ways to get our attention. It started one night in late August; I was reading a devotional before bed and the text covered was John 4:45 – 54, in which a Jesus grants a nobleman's request to heal his son. Jesus never met the boy, who was languishing at home in a distant town, but when the Master/rabbi uttered his promise, "thy son liveth," the boy's body was immediately healed.
Of course my thoughts turned toward Preston. Had I been wrong to feel it was too late for a miracle? I prayed again, with more vigor, and felt peaceful before falling asleep.
The next day I was working at home when my eyes fell upon another Christian devotional book which I had set aside years earlier.  I don't know long it had been since I had read Streams in the Desert. For some reason, I felt myself drawn to the little brown book that normally sat  unnoticed on my desk. There was a bookmark where I must have left off my reading at some point. Casually I flipped open to the marked page and began to read the selection for January 4.
My eyes grew large. There was the exact same passage, John 4:50, in which Jesus heals the nobleman's son.
The entry read: "When there is a matter that requires definite prayer, pray till you believe God, until with unfeigned lips you can thank Him for the answer. If the answer still tarries outwardly, do not pray for it in such a way that it is evident that you are not definitely believing for it. Such a prayer in place of being a help, will be a hindrance….there is nothing that so fully clinches faith as to be so sure of the answer that you can thank God for it."
These passages lined up with Laura's approach. Apparently my faith had been faltering, as I had been praying for healing in a way that was resigned to failure.
"Okay Lord," I prayed, head bowed. "I don't understand what is going on, but I am convicted of your leading. Of course you can do anything. Maybe we are not done here. I will begin praying with expectation for Preston to be healed."
The next day, I shared my revelation with Laura and promised her that I would join her in praying vigorously for Preston's restoration. She was thankful that God had stirred up my faith. From then on when I prayed, I began asking Jesus Christ to stand beside Preston as he lay in his home hospital bed. I would visualize life energy flowing from Christ and pulsating through Preston. These prayers felt good. The loving peace of God surrounded me.
I don't pretend to be gifted in prophecy; it's too early to know how this saga will end. However, one thing I do know: Laura is right to speak words of life and refuse words of doom. We both believe that God can change the atomic structure of any diseased area of the body and restore it to perfect health. If we are called to pray along those lines, then pray we shall.
Laura's strong will is a testimony of her expansive love for God and her expansive love for her husband. In July 2016, she penned a 17-page handwritten letter to friends and wrote this:
"Am I not blessed to be in love with Preston, still to be on the honeymoon, and to be the one who he loves? There are still many women who would line up for the position. We have received many blessings, both in our marriage and family as well as in our current trial.  Thank you for standing in faith with us."
Postscript
WHEN THE MIRACLE DOES NOT COME
People may wonder: how does it feel to be praying hard for a miracle, to feel led to pray in this healing direction, only to have your friend succumb to the cancer?
First, let me reassure you: after learning that Preston had died, I sat on my bed, eyes closed, and meditated in God's presence. In that stillness, I felt surrounded by the energy of rejoicing. My heart was filled with this fleeting joy, as I "sniffed" the aroma of an abundant celebration going on in the spiritual realm between Preston and the souls, angels, Son of God, and Father God who have been expecting him in Heaven.
It was a bit like looking at a boisterous party through an open door, glimpsing the laughter, the spread of food, the happy chatter, and feeling a part of what it must be like to be in there, although you were not invited and were merely passing by on the street. One day, God willing, I will step into the circle and link hands with them in love. I trust that in Preston's passing, as in all things, God's timing and care of those who love Him is perfect.
And I cannot overlook the fact that in praying for a miracle, I was able to join Laura in her work to do everything within her power to save her beloved. It is an honor to stand with a friend at such a time.
John 4:45-53    
King James Version 
45 Then when he was come into Galilee, the Galilaeans received him, having seen all the things that he did at Jerusalem at the feast: for they also went unto the feast.
46 So Jesus came again into Cana of Galilee, where he made the water wine. And there was a certain nobleman, whose son was sick at Capernaum.
47 When he heard that Jesus was come out of Judaea into Galilee, he went unto him, and besought him that he would come down, and heal his son: for he was at the point of death.
48 Then said Jesus unto him, Except ye see signs and wonders, ye will not believe.
49 The nobleman saith unto him, Sir, come down ere my child die.
50 Jesus saith unto him, Go thy way; thy son liveth. And the man believed the word that Jesus had spoken unto him, and he went his way.
51 And as he was now going down, his servants met him, and told him, saying, Thy son liveth.
52 Then enquired he of them the hour when he began to amend. And they said unto him, Yesterday at the seventh hour the fever left him.
53 So the father knew that it was at the same hour, in the which Jesus said unto him, Thy son liveth: and himself believed, and his whole house.